Business Customer Testimonials
Please meet our July featured business of the month
Midwest Appliance Repair Heating & Cooling, Located in DeSoto

Midwest Appliance Repair LLC is a small locally owned appliance repair and heating & cooling business. Our company is located at 14012 Charter Church Rd, Desoto Missouri. We offer a full range of services in Jefferson County, Sainte Genevieve County, St. Francois County, St. Louis County, and St. Louis City. David Roberts started the company in October of 2010, after working in the industry since he was a teenager. Dave has been working in the appliance repair and HVAC industry for 16 years.  Midwest Appliance Repair just celebrated our 10-year anniversary. We specialize in the service, maintenance and installation of all major home appliances and heating & cooling equipment. At Midwest Appliance Repair, our top priority is our customers and their experience with our business and services.
Services Offered:
Appliance service
Appliance Installs 
HVAC service
HVAC Installs 
Ventilation / Duct work installation 
Dryer Vent Cleaning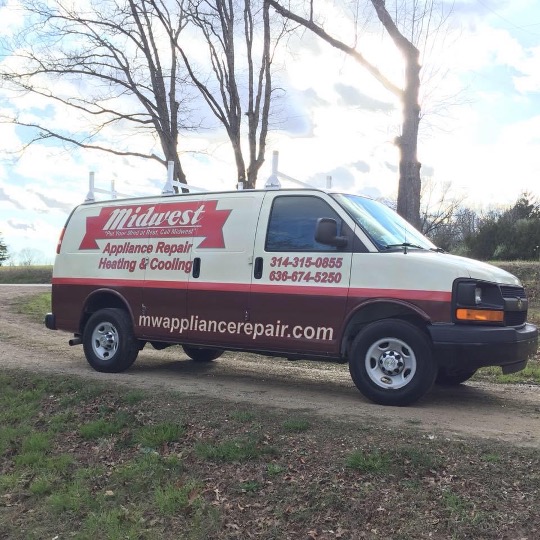 Thank you to Farmers & Merchants Bank for the opportunity to talk about our business. FMB has a small town / small business feel with the means of doing everything for us that a big national bank could do, but they make the processes more pleasant, and they seem to always get the job done efficiently. They have made the process of securing funding to grow and invest in our business very simple and enjoyable.
If you need any type of appliance or heating & cooling related services, please give Midwest Appliance Repair Heating & Cooling a call at (314) 315-0855 or (636) 674-5250 and tell them FMB sent you.  As an added bonus, they are offering the following promotion:
Refer to this ad for 10% off any repair (offer expires August 31, 2021)
Midwest Appliance Repair Heating & Cooling
14012 Charter Church Rd.
DeSoto, MO 63020
(314) 315-0855
(636) 674-5250
Previous Featured Businesses