Mascot Debit Cards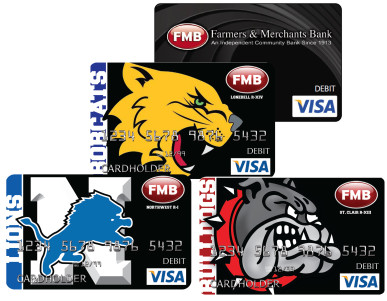 FMB offers a great way to support your local schools with a St. Clair Bulldogs, Lonedell Bobcats or Northwest Lions FMB Visa Debit Card! Every time the card is used for a signature purchase, your favorite school will benefit!
Total Mascot Debit Card donations to date:  $78,245
Lost or Stolen Debit Card? To report a lost or stolen FMB Visa ATM/Debit Card contact FMB at 1-800-382-0049 during normal business hours. If it is after hours please call 1-800-791-2525 and contact Farmers and Merchants Bank on the next business day.