Mascot Debit Cards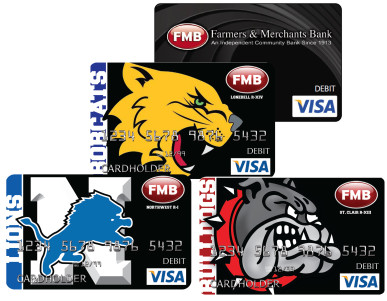 FMB offers a great way to support your local schools with a St. Clair Bulldogs, Lonedell Bobcats or Northwest Lions FMB Visa Debit Card! Every time the card is used for a signature purchase, your favorite school will benefit!
Total Mascot Debit Card donations to date:  $69,437.36
Visa ATM/Debit Card with MoneyPass® Network
Our Visa Debit card has no ATM fees when used at our bank locations or at any Money Pass ATM location. Convenience has a new name: MoneyPass®. The MoneyPass® network offers coast to coast access to thousands of surcharge free ATMs located where you live, work and travel. Use the easy online locator at http://www.moneypass.com to help you find the MoneyPass® ATM closest to you – whether at home or anywhere across the country – and avoid paying surcharges.

Lost or Stolen Debit Card? To report a lost or stolen FMB Visa ATM/Debit Card contact FMB at 1-800-382-0049 during normal business hours. If it is after hours please call 1-800-791-2525 and contact Farmers and Merchants Bank on the next business day.
My Rewards Plus™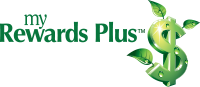 The My Rewards Plus™ program awards points for every debit card "signature based" transaction.  In other words, when you choose "credit" and sign for your debit card transactions you will begin earning points.  These points can be used to redeem merchandise or gift cards from the My Rewards Plus™ Website.  Extra points can be earned by doing all of your online shopping through the Perks Points Mall which you can access from your My Rewards Plus™ Website.
Points will accrue on your Consumer Visa Debit Card, HSA Visa Debit Card and Business Visa Debit Cards at 1 point for every $3.00 spent.  With our Mascot Debit Cards you can earn points and still give to your local school through our Mascot Debit Card Program.  Mascot Debit Cards accrue points at 1 point for every $5.00 spent.
Verified by Visa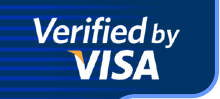 How it works….
Verified by Visa is a global solution designed to make online purchases more secure by helping ensure payments are made by the rightful owner of the Visa account. One of its objectives is to continue to build consumer confidence in online shopping—similar to that in a physical shopping environment.
Verified by Visa often works behind the scenes when you're shopping online. There may be times when you will be asked by your bank to provide more information to confirm the purchase. This helps make certain that you're the only person using your card online.
Visa offers comprehensive fraud protection, but Verified by Visa goes even a step further, adding an extra layer of security when you enter credit card information online.