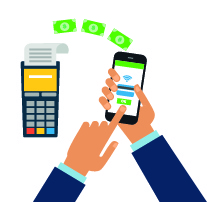 Make in-store purchases.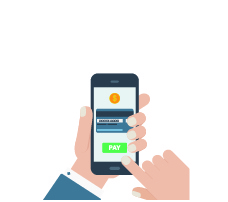 Make quick purchases in mobile apps.
Many wallets and cards offer rewards and discounts.
How mobile wallets work
Download the mobile wallet app (or it may already be built into your mobile device). 
Add your debit/credit card information to the mobile wallet.
When you check out at participating merchants, access the mobile wallet and choose your card.  Just hold your mobile device at the terminal and enter your password or fingerprint to authenticate the transaction.
Mobile Wallet Security
Before you use a mobile wallet service, look into what security measures the wallet provides to help protect your card information through tokenization. With some mobile wallets your full card number is not visible to merchants when you make a purchase. Some mobile wallets also have a way to disable the service if your card or mobile device is lost or stolen.
According to ConsumerReports.org, mobile wallets offer increased security. They're safer than carrying a card or cash in your wallet. That's because information stored in mobile wallets is encrypted, so the details of your credit card, for instance, aren't accessible to others. When mobile wallets transmit data to make payments, they never transmit your actual account numbers. Instead, they use encrypted payment codes.  Your phone can't be opened without your fingerprint or a personal identification number, so getting to your data is much tougher than opening up your wallet or pocketbook.
Even if a thief bypassed all the security, the risk to you is low. Mobile wallets usually require an underlying credit or debit card to fund transactions, and those cards limit your liability for erroneous or fraudulent charges to little or nothing.
Retailers widely accept payment by mobile wallet. Samsung Pay can be used at more than 10 million U.S. stores, Apple Pay at more than 3 million stores, and Android Pay at more than 1 million stores. The numbers will grow as retailers upgrade their payment card readers. The new readers come with near field communication (NFC) technology, which is used by mobile wallets to transact payments with cash registers.

Samsung is the most widely available because it uses NFC technology and works with a second technology, Magnetic Secure Transmission, that mimics more securely the way a magnetic stripe works on a traditional credit card, according to Shruti Sehgal, a company spokesperson. That technology is already incorporated into many card readers.
Choosing a Mobile Wallet
There are many mobile wallets to choose from.  When you're comparing features, be sure to check which mobile device is required and which merchants accept the wallet.  Some even allow you to use your FMB Card as your default to easily make payments. 
 • Google PayTM           • Apple Pay®     • Samsung Pay